Reserve a table by completing the form and by choosing your preferred time with any special requests. Sunset times are very popular and are best booked in advance, however, we will do our best to accommodate your request at all times.
We offer daily happy hour prices on drinks from 2pm to 7pm and are open 7 days a week from 07:30 – 22:30.
Come and join us on our sunset terrace or lounge on one of our soft cushions on the beach and witness one of Koh Tao's exceptional sunsets.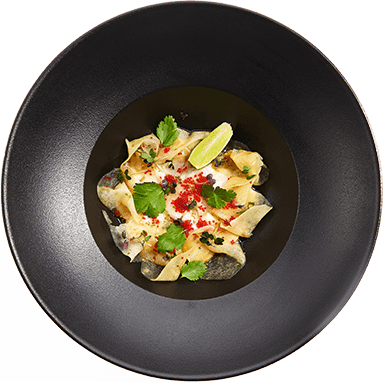 Breakfast on the Beach
You are on holiday so visit us for a delicious breakfast on the beach, enjoy the fresh morning air and ocean view.
We are open from 07.30 and offer a breakfast menu with something for everyone.
Choose from our smoothie bowls packed full of goodness and nutrition or one of our Avocado on toast breakfast specials, Stacked pancakes or Shakshuka with Tofu.
Breakfast is the most important meal of the day. Start your day the right way with a Breeze breakfast.
Coffee Lounge
Visit Breeze and lounge around on the comfortable sofa's and enjoy our great tasting coffee or a pot of our house blend tea and soak up the relaxed ambience.
We offer a range of different teas, craft brewed Kambucha and a fast stable WIFI internet connection, if you want somewhere quiet and comfortable to catch up on life.
Lounge on the Beach
We provide bean bags on the beach for you to relax and read a book and sun loungers if you want to top up your tan.
Enjoy one of our signature cocktails, cool off in the safe swimming area, enjoy tasty snacks from our menu, or one of our sharing boards with friends.  
You can relax with a drink of your choice and listen to our easy listening lounge music from the beachside speakers.
Koh Tao Beach Sunset

Breeze is one of the most popular venues to watch a stunning Koh Tao sunset and a great place to get that perfect holiday picture.
Enjoy our happy hour prices from 4pm – 7pm and soak up the beachside atmosphere with some pre-dinner drinks from our terrace, sun loungers or bean bags.
Romantic Dinner on the Terrace
As the sun sets over the western horizon, you can enjoy a romantic meal for two or with friends on our ocean view terrace.
Our menu has a great range of starters and mains to suit all tastes and moods from freshly roasted fish dishes to a tasty vegan burger.
If you are feeling hungry, you can try our filling flavoursome pasta dishes, or if you want something light, choose a scrumptious, delicious salad.
Our wine list includes a range of red and white wines to suit your taste and with a variety of local, international and craft beers on offer, there is a lot to choose from.
If you want to finish the night off with a delicious dessert, you can choose one of our mixed dessert boards to share.